Guarantor: Mgr. Pavla Škarková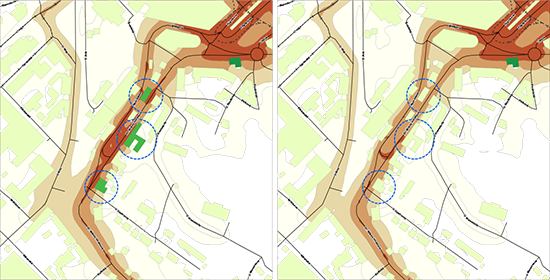 The response to noise pollution consists of action plans with noise control measures, prepared in accordance with the requirements of the European directive on controlling and lowering noise in the environment. These action plans are commissioned by the Ministry of Transport CR (for motorways and main roads, airports and railways) and regional authorities (for class II and III roads and urban agglomerations).
The primary aim of the action plan is to determine critical areas (based on Strategic noise maps) and propose measures that lead to a reduction in the number of inhabitants exposed to excessive noise levels.
In the event of specific requirements for individual cases of noise pollution, separate noise studies with individual assignments can be drawn up.
Who is this service intended for
The plan can be processed for use by public authorities, above all by cities, regions or ministries. Any entity can commission the study.
Service contents
Action plans for noise control measures
Noise studies, including noise maps and opportune proposal for noise protection zones for selected sources of noise
Zkušenosti
Action plan for noise control measures for the Liberec agglomeration, 2014–2015
Noise study for Náměšť airport (measuring the acoustic pressure of noise in the proposed OHP of Náměšť airport, Noise study for Náměšť airport, proposal for a noise protection zone for Náměšť airport), 2015